Is This Your Lucky Day?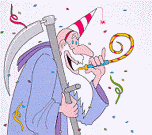 New Year Traditions
In Wales the boys of the village at around 3 or 4 am on New Year's morning. They would go from house to house using an evergreen twig to sprinkle over the people and then each room of their house. This was believed to bring good luck.
On New Year's Day children from Wales rise early to make the rounds to their neighbors singing songs. They are given coins, mince pies, apples and other sweets for singing. This must be done by noon or the singer will be called fools.


* * * * * AustralianMedia.com Family Network: * * * * *
Mens.Net | Womens.Net | Mothers.Net | Fathers.Net | Grandparents.Net | Teenagers.Net | Santas.Net | EasterBunnys.Net | JackOLanterns.Net | FatherTimes.Net | StValentines.Net HarvestFestivals.Net | BirthdayCelebrations.Net | ToothFairys.Net

© 2000 - present. Australian Media Pty Ltd. All Rights Reserved.
Please read our Legal Statement and Privacy Policy.