Valentines Day should be every day of the year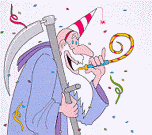 New Year Games
This is a game rather like baseball or cricket, the only difference is that it is played with two sticks one big one and one small one.
A small hole is dug in the ground and the small stick is placed across the hole.
The first player puts the end of the big stick into the hole and uses it to flick the small stick up in the air and as far away as possible. All the other players must try to field and catch the stick if they do then the first player is out. Otherwise the fielders try to get the player out by throwing the small stick back into the hole, the first player must try to fend it of with the big stick. The first player continues this until he or she is caught out. Scoring is done by using the big stick to measure the number of lengths between the hole and the small stick. At the end of the game, the player with the highest score wins.


* * * * * AustralianMedia.com Family Network: * * * * *
Mens.Net | Womens.Net | Mothers.Net | Fathers.Net | Grandparents.Net | Teenagers.Net | Santas.Net | EasterBunnys.Net | JackOLanterns.Net | FatherTimes.Net | StValentines.Net HarvestFestivals.Net | BirthdayCelebrations.Net | ToothFairys.Net

© 2000 - present. Australian Media Pty Ltd. All Rights Reserved.
Please read our Legal Statement and Privacy Policy.