Birthday Celebrations Net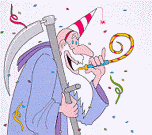 New Year Traditions
In Denmark it is a good sign to find your door heaped with a pile of broken dishes at New Years. Old dishes are saved year around to throw them at the homes where their friends live on New Years Eve. Many broken dishes were a symbol that you have many friends.
New Year's Eve is framed by two important items broadcast on television and radio, respectively the monarch's New Year Speech at 6pm and the striking of midnight by the Town Hall Clock in Copenhagen, which marks the start of the new year.
Many Danes party with various kinds of good food followed by champagne and marzipan ring cake at midnight. The New Year is greeted with fireworks after midnight; they include both noisy bangs and rockets, which light up the night sky in many different colors. In many parts of the country, the traditional New Year's Eve menu is boiled cod, or stewed kale and cured saddle of pork.


* * * * * AustralianMedia.com Family Network: * * * * *
Mens.Net | Womens.Net | Mothers.Net | Fathers.Net | Grandparents.Net | Teenagers.Net | Santas.Net | EasterBunnys.Net | JackOLanterns.Net | FatherTimes.Net | StValentines.Net HarvestFestivals.Net | BirthdayCelebrations.Net | ToothFairys.Net

© 2000 - present. Australian Media Pty Ltd. All Rights Reserved.
Please read our Legal Statement and Privacy Policy.