Valentines Day should be every day of the year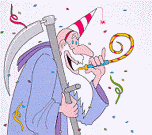 New Year Recipes:
500 grams grated cheese
500 grams butter
1 cup flour
dash cayenne
dash tabasco sauce
dash worcestershire sauce
1. Mix flour, butter, cayenne and cheese with fingers & add Worcestershire sauce and tabasco, until a dough forms.
2. Roll into balls and bake at 180 degrees celsius for 20 minutes.


* * * * * AustralianMedia.com Family Network: * * * * *
Mens.Net | Womens.Net | Mothers.Net | Fathers.Net | Grandparents.Net | Teenagers.Net | Santas.Net | EasterBunnys.Net | JackOLanterns.Net | FatherTimes.Net | StValentines.Net HarvestFestivals.Net | BirthdayCelebrations.Net | ToothFairys.Net

© 2000 - present. Australian Media Pty Ltd. All Rights Reserved.
Please read our Legal Statement and Privacy Policy.